OSKALOOSA, Aug 8, 2018 — Mahaska County residents were eager to share their opinions on the future of the community during a creative placemaking session held at ISU Extension Tuesday.
Oskaloosa Mayor David Krutzfeldt said if creative placemaking is done right, it's going to help city officials think creatively about the resources the community has and how to put those ideas to work.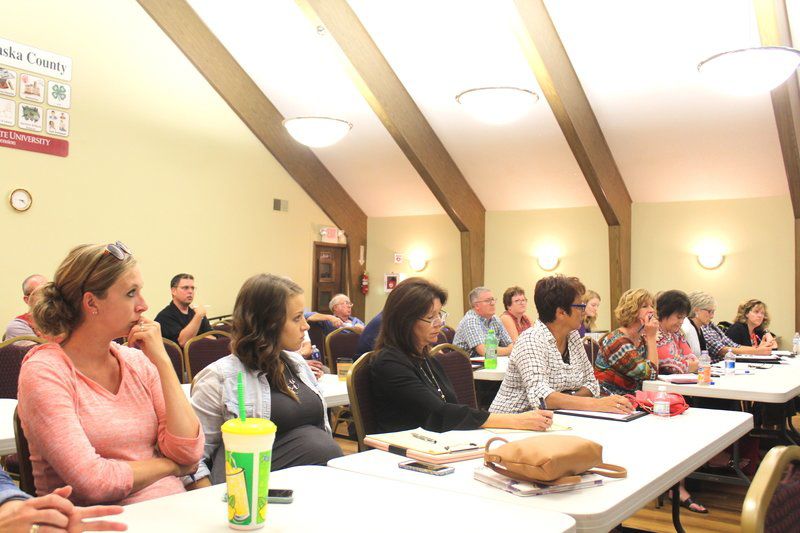 "And it also helps set the vision for our community leaders past the generation that I'm in and our city council members," he said, "thinking more about what is the long-term vision going to be when we're no longer around that we can bequeath to the people that follow us."
City council members and the mayor have a tendency to hear from Oskaloosa residents when there's a problem.
"They make a complaint. And we react to the complaint," he said. "But what we don't do is spend the time thinking, in my opinion, enough about where we make our strategic investments. How are we able to prevent problems going forward so that our people that live here are delighted with the place they live and it's a good living experience?"
The city has engaged McClure Engineering Company to help with the process. McClure's Vice Principal of Community Planning Bethany Wilcoxon, AICP said her team will put together all of the evening's input and existing plans and put them together to identify themes.
From there, feasibility assessments and action plans will be undertaken.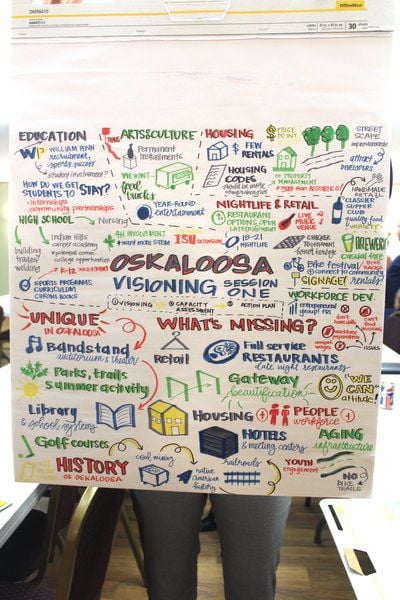 "We really wanted to build on the community's past," she said, "but also looking toward the future and make sure that Oskaloosa continues to be a fabulous community where people are wanting to live here, to work here, to play here, starting a family scene."
Wilcoxon said the placemaking process is all about how to build upon all of the great things that are already happening in Oskaloosa.
"As well as how to elevate the community, make sure that we are a choice community for people to work and play here, to tell their friends about all the wonderful things that are happening in the community," she said. "So as we move forward over the next several months, our team will work with all of you and the steering committee as well as the city leadership to really define what those projects may look like."
What's unique about Oskaloosa
Community members sang out ideas about what makes Oskaloosa stand out from other communities, including the bandstand, courthouse, the city's musical heritage, the recreation trails and facilities, the Oskaloosa Art Center, the parks, William Penn University, a variety of businesses with a world-wide reach, the number of patents in the community, the summer activities, Main Street, the Chamber of Commerce, having a Carnegie library, the many holes of golf and disc golf, the school system, a sculpture tour, mammoth bones, and historical heritage.
What's generally missing
Suggestions as to what Oskaloosa may be lacking included: Good entrances to the city, a variety of good places to eat, clothing stores and retail in general, a modern airport, general entertainment, traffic-clogged arterials, housing, nice hotel rooms, good roads, and positive attitudes.
Wide span of topics
Attendees gave ideas regarding arts and culture, retail and economic development, nightlife, housing, recreation, schools, workforce development and entrepreneurship.
Another creative placemaking session will be held at 5:30 p.m. Thursday, Aug. 9 at Smokey Row.
Managing Editor Angie Holland can be reached at [email protected] and followed on Twitter @OskyAngie.